Keep your IT infrastructure and online platforms safe and secure 24/7 with our outsourced SOC (Security Operations Centre) solutions in Sussex and Surrey. Our dedicated team of security professionals will monitor your entire organisation's IT and detect any security incidents or cyber threats in real time. This means security threats are dealt with efficiently and effectively.
Our SOC services include:
Security Monitoring: Continuous monitoring of your IT environment, including networks, devices, and applications, to identify and address potential security threats in real-time.
Threat Detection: Utilising advanced tools and techniques to detect potential cyber threats, such as malware, ransomware, phishing attacks, and data breaches, before they can impact your business operations.
Incident Response: Rapid response to security incidents, ensuring effective containment, eradication, and recovery from threats to minimise damage and downtime.
Vulnerability Assessment: Regular assessment of your IT infrastructure to identify vulnerabilities and weaknesses that could be exploited by cybercriminals, with recommendations for remediation and risk mitigation.
Threat Intelligence: Collection and analysis of threat intelligence data from various sources to provide actionable insights and improve your organisation's overall security posture.
Compliance Management: Assistance with meeting industry-specific compliance requirements, such as GDPR, HIPAA, and PCI DSS, by implementing appropriate security measures and monitoring for potential violations.
Security Analytics: Advanced analytics to identify patterns and trends in security data, helping to detect and prevent potential threats and improve overall security effectiveness.
Security Orchestration, Automation, and Response (SOAR): Streamlining and automating security processes to improve efficiency and minimise the risk of human error in threat detection and response.
Security Awareness Training: Providing your employees with the necessary knowledge and skills to recognise and respond to potential cyber threats, fostering a culture of security within your organisation.
How can SOC protect your business?
24/7 threat detection is extremely important for ensuring minimal downtime for your business. Not only can downtime be costly, but trying to retrieve lost data following a security breach can be detrimental.
Not only does our SOC team monitor your IT infrastructure using the latest security tools, we also review and assess threat data and security operations so we can continually improve your intrusion prevention systems.
This means you'll always have the very best protection against cybersecurity incidents, the latest threat intelligence and the quickest incident response. Having effective threat detection and prevention is important now more than ever, so ensuring you're using the latest solutions will protect your business continuity.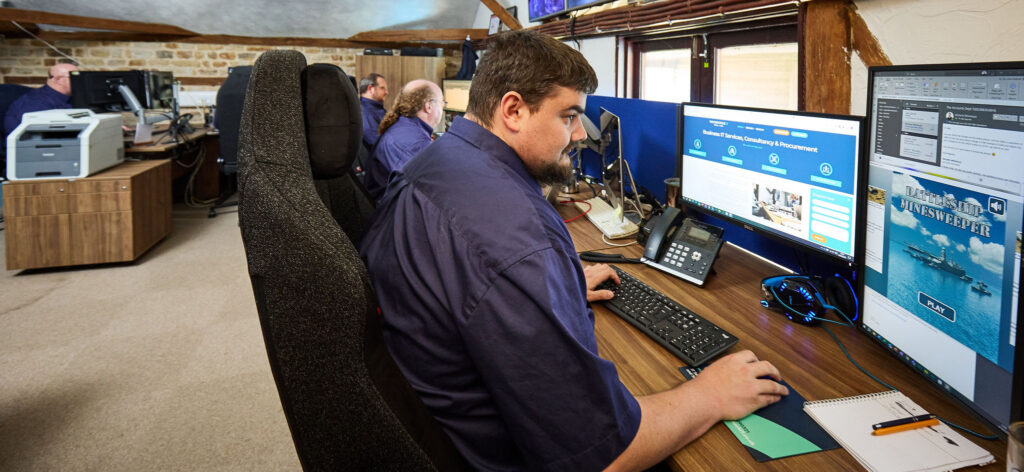 What is included in SOC?
There are three main areas that a security operations centre focuses on; monitoring, detection and response.
Monitoring
This includes round the clock monitoring of all IT infrastructure including:
Servers
Applications
Software
Hardware
Cloud solutions
Network
Using the latest monitoring tools, we're able to actively look for threats, but also upgrade the system where we think there could be a weakness.
Detection
If a threat is found through active monitoring, our systems and highly skilled security analysts will be able to identify this before it becomes a problem for your business. Our intrusion detection systems efficiently highlight any security issues and our team will analyse these and then act where appropriate.
Response
Response can include anything from stopping a cyber security incident from happening, to investigating any vulnerabilities that may be seen in your security systems. The proactive threat management from our team means your systems are always performing optimally and in the best position to fight off any security breaches.
What security measures will be put in place?
There are a wide range of ways that our team can identify potential security incidents. Some of the main security measures include:
All of our services can be tailored to your unique business setup and will be designed to meet your security requirements and budget.
Why choose Woodstock IT?
At Woodstock IT, our SOC teams take online security very seriously. We use the very latest security solutions to ensure your sensitive data and online systems are safe 24/7. Using industry leading threat intelligence, we are always one step ahead of security incidents before they become a problem for your business.
Contact our team today to discuss your Security Operations Centre (SOC) needs.