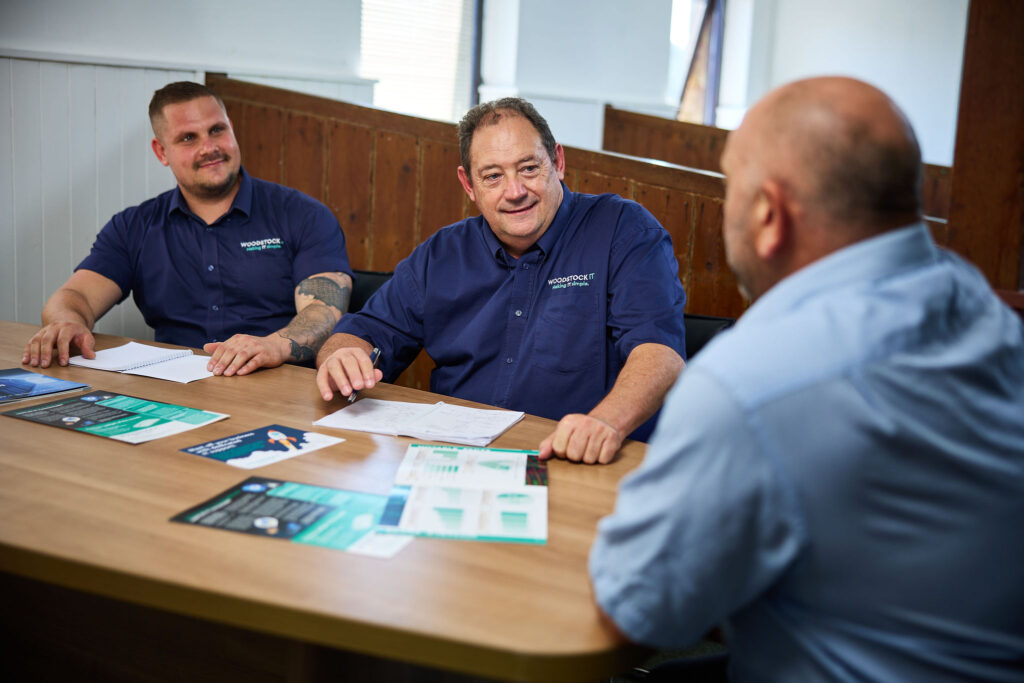 Business IT support professionals
At Woodstock IT we're a dedicated team of IT professionals proud to offer a range of tailored and effective IT services to UK businesses. We are also specialists in repairing and refurbishing computers and devices, including printers, for businesses and individual customers.
Based in Horsham and Crawley, West Sussex, and Guildford, Surrey we deliver fully managed IT services and IT support including:
VoIP (Voice over Internet Protocol)
Ongoing and remote support
Founded in 2011, we moved to larger premises in 2016 as our team expanded and have continued to enjoy steady growth, built on our quality customer service and trusted reputation. Take a look at our Google reviews where we have an average rating of 4.8 stars!

Call us at 01403 290 321 or 01293 912 321 to learn more about our services, available throughout Sussex, Surrey, and the surrounding areas.
Benefit from accessible IT
When it comes to your business requirements, our dedicated and passionate experts have years of experience in IT solutions to help fix and improve your system in an efficient, cost effective manner. To help us deliver the best services, we're partnered with top IT providers such as ESET, Dropbox, Autotask, ISL and Acronis.
Whilst the team at Woodstock IT are fully trained professionals, you don't need to be computer literate for us to help. We give advice, consultations and solutions in a clear, understandable way so you'll never be unsure of the work we're doing, or the results.
Once we've set up your system to be reliable and safe, or reviewed your existing IT, it's important to maintain and improve performance based on your unique usage; this is why we offer ongoing, tailored support.
When your services have been ideally structured for your company, you really start to feel the benefits across devices and locations, boosting both enjoyment of IT and productivity.
Invest in technology that works for you
With such an important role in crafting successful businesses and leisure time at home, you need IT services that work for you and meet your needs. This includes a reliable internet connection that's both fast and secure, appropriate storage and of course, the right virus protection.
The Woodstock way is

Call our team today
As well as going to businesses for on-site work, we accept appointments at our offices for hardware repair, such as laptops and broken hard drives; if we can't fix it, we don't charge.
Whatever issue you're facing or question you have, call our hotline on 01403 290 321 or 01293 912 321 for a friendly chat and if required, a no obligation quote.