At Woodstock IT we understand the importance of protecting your valuable data. Whether it's personal information, financial records, or business operations, data loss can have a devastating impact on your organisation. That's why we offer a full range of data and recovery services to help you safeguard your data and minimise the risk of loss.
As data recovery specialists, we're all about proactive data protection to ensure that we never have to recover your data. We provide excellent backup and recovery services which provide data protection for applications, files, and servers which we configure, administer, monitor and support, giving you peace of mind.
If you have lost data, we have an extensive recovery process and are experienced in retrieving data, whether it's corrupted data, there are deleted files, or your hard drive has failed.
Our backup services
Data Backup: We provide automated and secure data backup solutions to ensure that your data is always protected and easily recoverable in the event of a disaster.
Data Recovery: In the event of data loss, our team of experts can quickly and efficiently recover your data, minimising downtime and getting your business back up and running as quickly as possible.
Data Destruction: When it's time to retire old equipment, our data destruction services ensure that your data is completely erased and unrecoverable, providing peace of mind and protecting you from data breaches.
Cloud Services: We also offer a variety of cloud-based services such as storage, backup, and disaster recovery that can help you to access your data from anywhere in the world.
How to ensure you don't lose data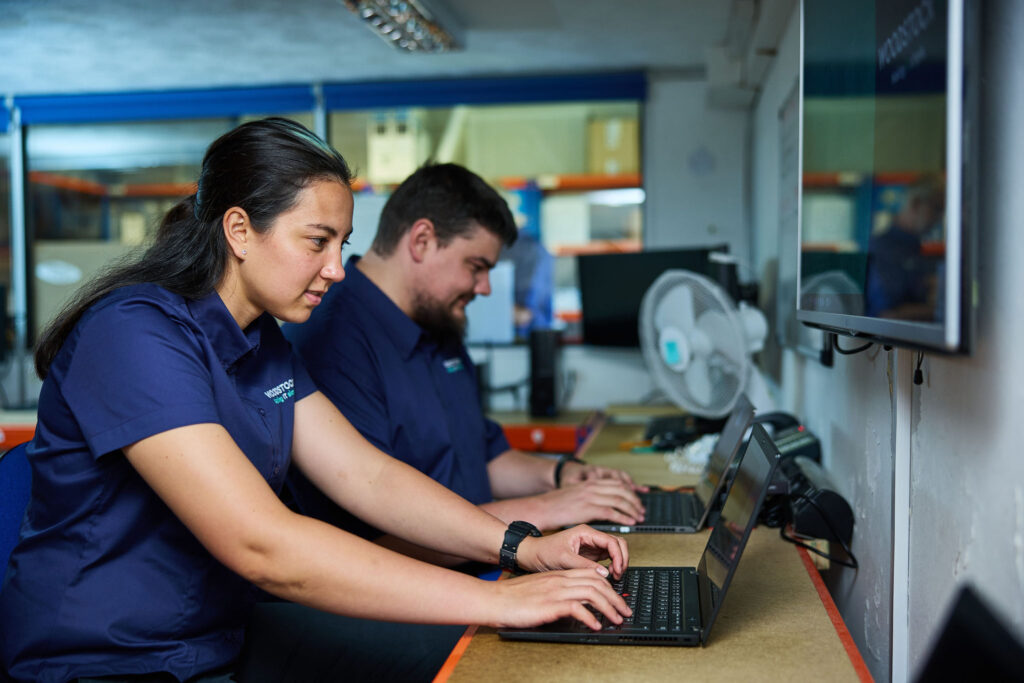 Regular backups: One of the most important steps in preventing data loss is to regularly backup your data. This ensures that you have a copy of your data that can be used to restore your systems in the event of a disaster.
Data redundancy: Implementing data redundancy, such as using RAID (redundant array of independent disks) or mirroring, can help protect against data loss by providing multiple copies of your data.
Cybersecurity Measures: Another important step is to implement cybersecurity measures such as firewalls, antivirus software, and intrusion detection systems to protect your systems from cyber threats.
Regular Maintenance: Regularly maintaining your systems and hardware can help to prevent hardware failures and other issues that can lead to data loss.
Employee Training: Educating your employees about the importance of data security and providing them with the necessary training to identify and prevent cyber threats can help to reduce the risk of data loss.
Disaster Recovery Plan: Having a disaster recovery plan in place can help you to quickly and efficiently respond to a data loss incident and minimise the impact on your business.
Our data recovery solutions
Disaster recovery
Our disaster recovery process begins with a comprehensive IT audit [link], which will enable us to pinpoint where the data was lost or corrupted. We then assess all of your equipment and how data is stored and maintained and offer bespoke solutions to ensure that important files and critical data are looked after.
If your business does not already use cloud services, we recommend setting up a cloud storage system, such as Microsoft 365 [link], and ensuring that even if there is deleted data, it will be easily recovered and accessed from any operating system and any device.
Business continuity
We work with many businesses on their business continuity [link] plans, which allow businesses to keep running even in bad weather, global pandemics, power cuts, and other events.
We offer penetration testing, infrastructure upgrades, cyber security services and more to keep your business and online data secure.
Remote monitoring
Our remote monitoring services allow us to complete patch management offsite to update and maintain your online services, reducing the risk of lost data. We use direct, secure, and encrypted connections to reduce any risks for your business, and proactively manage any weaknesses and issues before you even notice.
Our responsibilities
As a provider of data recovery and protection services, Woodstock IT is fully aware of the importance of compliance with data protection laws in the United Kingdom, including the General Data Protection Regulation (GDPR) and the Data Protection Act 2018. We take the necessary steps to protect the personal data of our clients, by implementing regular backups, data encryption, and access controls.
In the event of a data breach, we are committed to informing the Information Commissioner's Office (ICO) and any affected individuals in a timely manner and having a robust incident response plan in place. Our disaster recovery plan ensures that we can quickly and efficiently respond to any data loss incidents, minimising the impact on our clients' businesses.
At Woodstock IT, we are dedicated to ensuring compliance with data protection laws and providing the highest level of data protection and recovery services for our clients.
Data protection & recovery for your business
Our data recovery services are second to none and if your important data is recoverable, we can help. We use specialist data recovery software and manual techniques to extract whatever we can. Contact us today to get started.
If you're worried about data protection, contact us for your options and we can curate a bespoke service just for you.