As technology advances, so do the online threats that come with it. Protecting your business data has never been more important. From malware to cyber criminals, the risks of an attack are increasing. That's why it's crucial to have market-leading antivirus software to safeguard your computers, mobile devices and data.
At Woodstock IT, we offer tailored antivirus protection services to businesses in Sussex and Surrey. Our expert team is here to deliver the best solution for your needs, ensuring your devices are safe and secure, no matter the size and scale of your business.
Our core antivirus services
Business antivirus setup
Personal data and identity protection
Installation, upgrades, and maintenance of software
Fixes in case of a threat
Ongoing health checks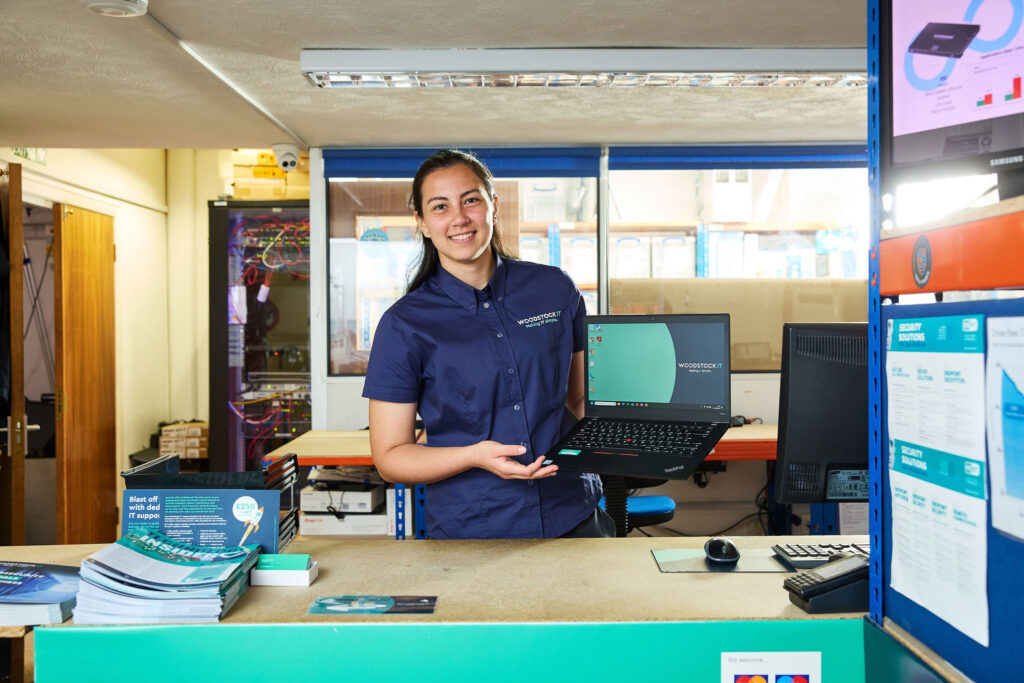 Why your business needs antivirus programs
Avoid data theft, phishing attacks and system crashes
Prevent downtime due to attacks
In the modern work environment, companies need up-to-date security software and virus protection that can protect multiple machines at once. Our antivirus services prevent disruption to productivity and downtime due to performance issues during and after an attack.
Malware, otherwise known as malicious software, is created to harm computer systems and even steal data. This can come in the form of computer viruses, Trojans, worms, ransomware, spyware and adware.
Malicious software can infect a computer through various means such as email attachments, downloads from unsecured websites, or through vulnerable software. The impact of malware can range from annoying pop-up advertisements to serious data theft and system crashes.
It is crucial to have antivirus software and malware detection installed on your devices and to exercise caution when opening email attachments or downloading files from the internet to prevent malware infections.
ESET antivirus software
We're proud to partner with market leader ESET to provide the best antivirus protection for your business networks. This advanced software uses artificial intelligence to detect and disable daily attacks from malicious viruses and cyber criminals. Once installed, your passwords and business data are secured.
One of the main benefits of using this antivirus protection is that it works in the background, allowing you and your team to focus on your work without any distractions. You don't need to do anything technical – it just provides peace of mind.
ESET vs free antivirus software
When considering antivirus software options, it's important to understand the benefits and drawbacks of both free and paid options. While free antivirus software provides basic protection at no cost, it often lacks the advanced features and tools that paid options offer.
On the other hand, paid antivirus software, like ESET, provides comprehensive protection against cyber threats using advanced artificial intelligence and a range of security features, but comes with a cost. It's important to carefully consider your specific needs and budget to determine the best solution for your device and online security.
Pros of free antivirus software:
Cost: The biggest advantage of free antivirus software is that it's free, making it accessible to users who are on a tight budget.
Basic protection: Most free antivirus programs provide basic protection against common viruses, spyware, and malware.
Cons of free antivirus software:
Limited features: Free antivirus software often has limited features compared to paid options, which can leave your system vulnerable to more advanced threats.
Pop-ups and ads: Some free antivirus software comes with annoying pop-ups and advertisements, which can be distracting.
Pros of ESET antivirus software:
Advanced protection: ESET's antivirus software uses advanced artificial intelligence to provide comprehensive protection against cyber threats, including viruses, spyware, and ransomware.
Minimal distractions: ESET's software runs quietly in the background, providing users with peace of mind without any distractions.
Comprehensive features: ESET offers a range of features and tools to provide complete security and protection to users, including password protection and personal data protection.
Cons of ESET antivirus software:
Cost: Unlike free antivirus software, ESET comes with a cost, making it less accessible to small businesses who are on a tight budget.
Steep learning curve: For users who are not very technical, ESET's advanced features and tools can be difficult to understand and use. We will support your business, offer training or simply manage it on your behalf depending on your business needs.
Protect your business devices and data today
Investing in antivirus software is a smart decision for businesses and one you shouldn't delay. It pays to protect your company's data from potential threats and to keep your devices running smoothly, allowing you and your team to stay productive.
Contact us today for advice and a free quote on protecting your machines and data. If you're currently experiencing issues, we can help fix the problem, so don't hesitate to get in touch.
Other Services
In addition to our antivirus protection services, Woodstock IT offers a wide range of business IT solutions to ensure your company's technology is secure, efficient, and up-to-date. Our services are designed to meet the diverse needs of businesses across Sussex and Surrey. Explore our comprehensive offerings below:
Managed IT Services
Discover our managed IT services, including IT support, Microsoft 365, Microsoft Azure, backup solutions, encryption, Security Operations Centre (SOC), dark web monitoring, and employee monitoring.
Consultancy
Our consultancy services cover IT audits, cyber security, penetration testing, cloud migrations, infrastructure upgrades, and office relocations, ensuring your business has the expert advice and support it needs.
Connectivity
Improve your business connectivity with our VoIP telephony, business broadband, WiFi solutions, data cabling, and network design services, tailored to suit your company's requirements.
Procurement
Find the right technology for your business with our IT sales, refurbished Apple products, and refurbished computers all designed to help you make the most of your technology investments.
Contact us
Contact our team of experts today to discuss your business IT needs and discover how Woodstock IT can help you maximise your technology's potential.