As 2021 draws to a close, we're delighted to reflect on the past year and think about how we've expanded and adapted our business to best support our customers. Thankfully, we have had another successful year despite the current circumstances of the world and are proud to have been able to continue to offer other businesses help and support throughout the past year.
Take a look at some of our highlights from 2021 below and hear from our Director Julian Shelley.
If your business needs help with its IT needs in 2022, whether it be support, managed services, broadband or backup and data recovery, we can help. Give us a call on 01403 290321, or contact us using our online form.
Managed IT services
We are supporting a growing number of businesses on an ongoing basis with their day to day IT support needs, as we further embrace the MSP (Managed Service Provider) model.
Businesses are increasingly realising the value we offer and the peace-of-mind afforded to them by having us manage their entire IT infrastructure.
This can mean anything from:
Proactive monitoring of performance
Improving IT performance
Diagnosing issues
Repairs
Storage and backup solutions
Data recovery
Rapid response
Server and network migration
We offer a wealth of managed IT services that will help you focus on your business, whilst we keep an eye on your IT. Our team works closely with businesses to create a bespoke solution that only features support in the areas you need.
Find out more about managed IT services
Hybrid working
We are helping many clients who have embraced a "hybrid" working environment, where employees are able to more easily spread their working time between home and the office.
We're able to offer customers flexible solutions that cover office and home working, this includes:
Give us a call on 01403 290 321 to find out how we can help your business with hybrid working.
Residential WiFi connectivity
We continue to work with a number of residential clients, improving and maintaining their WiFi connectivity in larger properties, where home-working or the home-based business have become permanent fixtures.
Having a strong WiFi connection is important now more than ever, so we help to provide simple and effective solutions for residential clients. This includes:
Setup and ongoing maintenance of WiFi speed
Structured data cabling
Managed WiFi 
Latest WiFi standards and top speeds 
Speed, hotspot and bandwidth management
Point to point wireless solutions
Find out more about residential WiFi solutions
Promotional and testimonial videos
This year, we produced our first series of promotional and client testimonial videos. We now have a range of videos available to watch that detail our services and how we work with you, as well as a range of client testimonials. Not only do these help you see the value of working with us, you also get to meet some of our amazing team members and get to know them a bit more!
All of these videos are available to watch across our website and on our YouTube channel.
Visit our YouTube channel
Our Christmas party
We were delighted this year to be able to have a real life Christmas party! It was great for the whole Woodstock IT team and their partners to get together and celebrate the year we've had and look forward to an ever brighter 2022.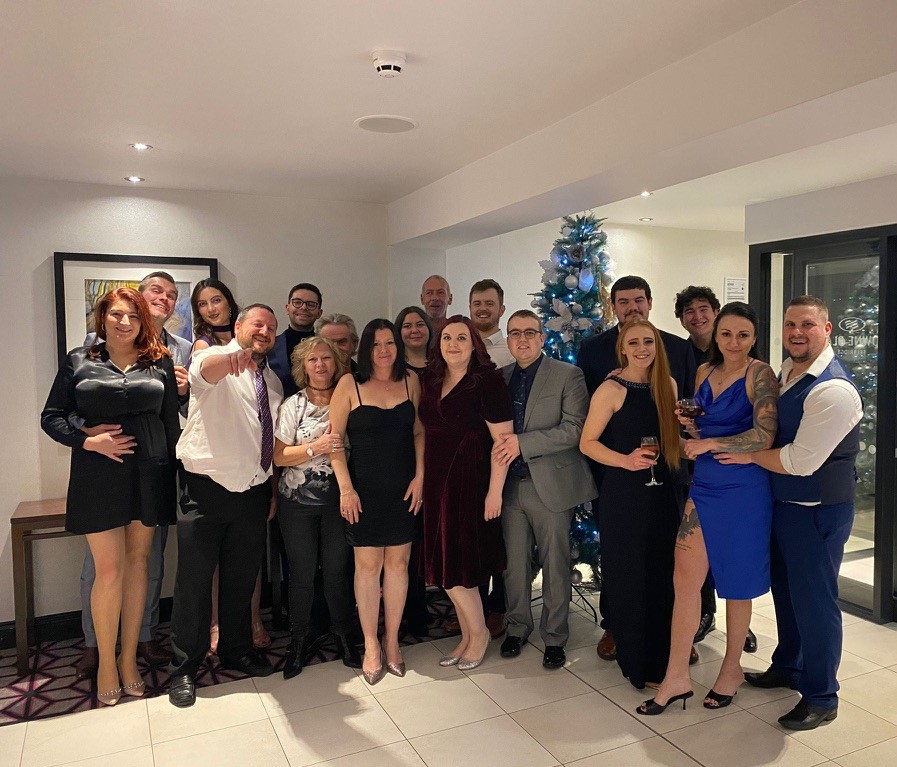 A message from Julian
This year has seen continued challenges for all of us, as we endure the longer-term impact of the Covid-19 pandemic and adapt to a "new" way of life. I believe that Woodstock IT has been a steady rock for many of our clients through much of this uncertainty. Whether it be helping them to navigate new challenges with their IT infrastructure or just providing a friendly, reliable service with that niggling IT problem. As always, we are extremely grateful to our loyal client base. I hope that you all have a happy, relaxing festive season and wish you all the best for 2022!
Benefit from IT support in 2022
We pride ourselves on making IT simple, no matter what your IT needs are. Give us a call on 01403 290 321 to discuss your current IT setup and how we can help to improve it.