Keep Your Devices Connected and Running at Home With Our Expert Residential Services
For most households working, streaming and watching content, chatting with friends online or completing schoolwork are daily occurrences.
We offer a comprehensive range of IT services and support to ensure that your' homes IT systems remain online, safe, secure and up to date at all times.
High Speed Broadband and WiFi Services
Whether it's for work or pleasure a strong and reliable internet connection is essential. With our tailored approach to residential broadband and WiFi you can be confident that your home network will be quick, secure and capable of meeting the unique current and future demands of your household.
Our core WiFi solutions include:
Setup assessment and ongoing maintenance of speed
Structured data cabling
Managed WiFi and surveying
All latest WiFi standards and top speeds (802.11ac)
Speed, hotspot and bandwidth management
Point to point wireless solutions
Data Cabling Services
Data cables have capacities that need to match your data use and include ethernet cables and fibre optic technology. In order to future proof your IT infrastructure and properly benefit from high broadband speeds and reliable WiFi it's essential to invest in an appropriate data cabling network. Our highly skilled engineers have years of experience improving and/or installing data cabling networks and we're happy to provide you with a free, no obligation quote for your homes data cabling plan.
Our core data cabling service includes:
Assessment and termination of current structure
Installation of data cabling, including fibre optics
Single and multi mode, Cat5E and Cat6 UTP solutions
Tailored infrastructure and cable routing plans
Minimum disruption throughout installation
Ongoing maintenance and upgrades
Network Health Checks
A proactive approach towards IT is always preferable to a reactive one. With Woodstock ITs' residential network health and performance checks you can be sure that your homes IT systems are working optimally and that any potential issues will be identified and resolved before they become a problem for your home.
We'll concentrate on:
Network speed
Internet connectivity
File sharing
Backup and data recovery
Hosted Email Services
With our hosted email service it's easier than ever to seamlessly combine your work and home life. Every email you send or receive is synchronised on every device you own, in real time, all the time – so you'll never miss a deadline, meeting or family gathering.
The solution offers you:
Seamless real time synchronisation across all devices including smartphones and tablets
Fully backed up and accessible from any browser when required
Out of office replies available
50 GB of mail storage
Built-in security and integrity
Guaranteed service levels
Low set up and ongoing costs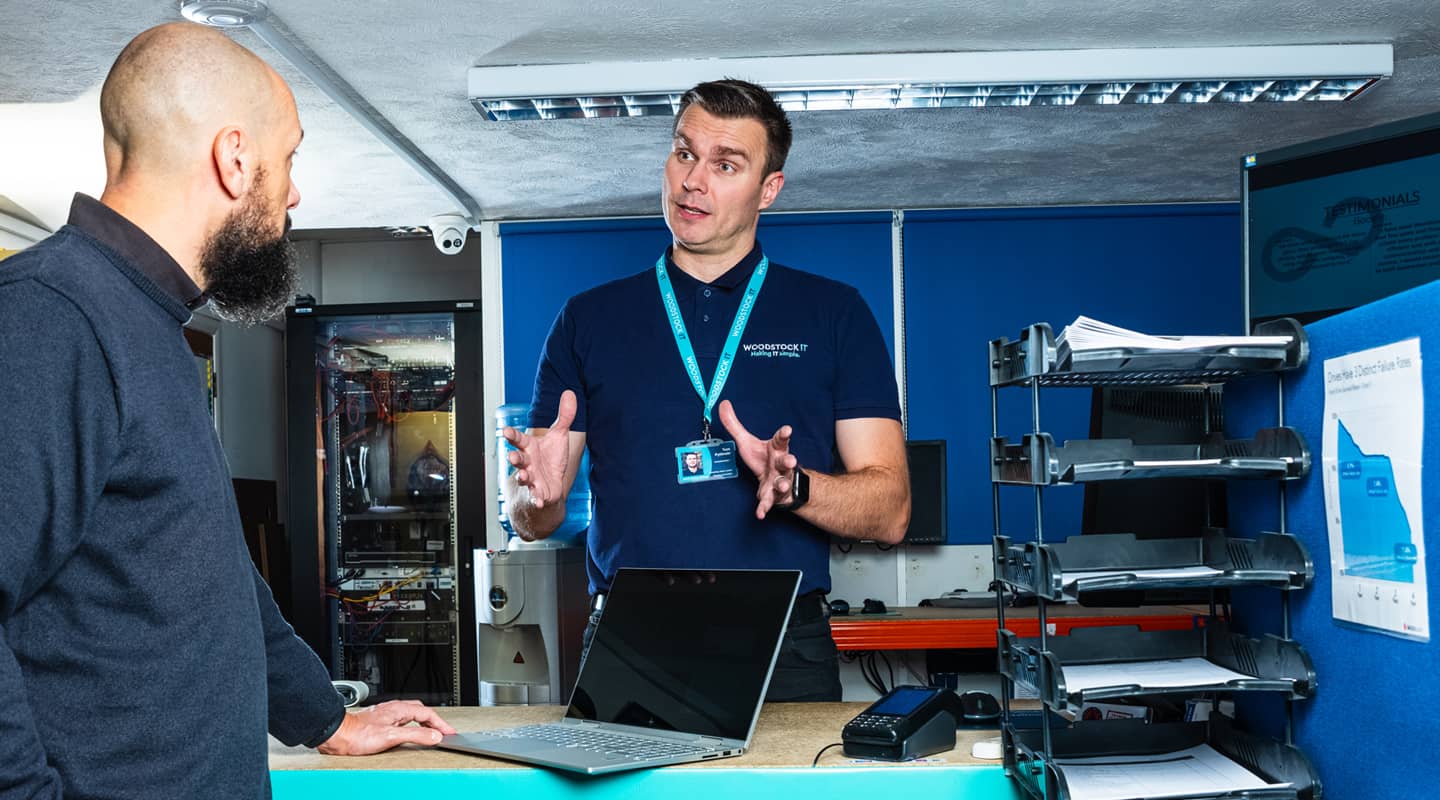 Why Choose Woodstock IT For Your Residential IT Services?
Excellent Customer Service
At Woodstock IT we're dedicated to providing our customers with the most flexible service possible. Whether you require a repair, ongoing IT support or would like more information regarding anything from virus security to data backup our friendly, local IT support and computer repair experts are always on hand and available to answer any questions you may have. We also regularly publish lots of interesting and innovative industry news and ideas on our blog, covering areas including company news, GDPR, repairs, security and technical info.
Highly Experienced Team of Experts
Our highly skilled team of IT engineers are fully qualified and have years of industry experience working within the residential and business sectors. We pride ourselves on our personal approach and ability to make IT simple – offering expert solutions and support without the unnecessary industry jargon.
Remote and On-Site Solutions and Support
From computer and laptop repairs (LINK TO IT AND PRINTER REPAIRS PAGE) to software updates and cloud backup we'll strive to carry out any repair and maintenance works at a convenient time and location to you – whether that be at your home, or at one of our drop-in clinics in Horsham or Guildford. Call us today and let us take care of your homes' IT systems.
No fix no fee policy
If we can't offer you a solution or fix your issue, then you won't be charged.
In the unlikely event we cannot diagnose or complete a fix, we're more than happy to let you know what we've found through our diagnostics and point you in the right direction. In this way, you'll still be able to move forward with your issue and get our expert insight at no cost.
If you have a query, don't hesitate to get in touch. We look forward to hearing from you.
Make an enquiry
To discuss how we can help you save money and improve your communication infrastructure please call 01403 290 321 or 01293 912 321, or request a call back below. One of our friendly team is always happy to speak to you and explain anything you might want to know.