IT Services For Business
At Woodstock IT we know how important it is for businesses to adopt a proactive approach towards IT infrastructure. We work alongside businesses of varying sizes, from small start-ups to large corporations, to provide a wide range of bespoke IT services and managed support contracts.
Whether you are looking for a business IT specialist to assume the role of your IT department, or require bespoke ad-hoc IT services – Woodstock IT have the knowledge, experience and expertise to keep your organisation running smoothly – affording you the freedom to focus on running your business.
Business IT Support & Services
Fully Managed IT Support Contracts
A safe, secure and properly managed IT system is essential to the success of any business regardless of size, nature or industry within which they operate. Our tailored approach towards business IT support ensures that you'll only pay for the services you require, as and when you require them.
As part of our managed support contracts we provide our clients:
Unlimited priority call outs
Proactive 24/7/365 support
Emergency reactive support
Remote fixing and system monitoring
Telephone support
Periodic on-site inspections and IT system health checks
Discounted products and upgrades
Personal account manager
Remote management
Managed IT Services
From the initial set-up right through to the monitoring and maintenance of your IT system our fully managed IT services are tailored to meet your requirements. We'll identify potential issues before they happen, minimising downtime and maximising productivity.
In addition to our tailored packages we offer our clients our standard 'A BEER" package:
Antivirus – Premium antivirus security from ESET
Back-up and data recovery – Remotely managed full data backup with flexible retention periods
Encryption – Full encryption of your data storage for GDPR compliance
Email Service – Hosted email service via Microsoft Office 365, with myriad add-ons to customise
Remote – Ongoing remote helpdesk support, to keep things running smoothly
Cloud Solutions
With almost unlimited data storage, elastic scalability and remote access for employees cloud services are essential tools for any business, no matter the size. At Woodstock IT we can design, install and maintain your cloud system providing your company with a safe, secure and flexible virtual office environment.
Virtual Hosted Desktop
Accessed via the cloud Woodstock ITs' virtual hosted desktop enables employees to work from any location with a reliable internet connection, with the added benefit of increased data security protection. Virtual hosted desktops allow business owners and employees to:
Collaborate in real time from any internet enabled Windows or non-Windows device
Synchronise data instantly
Store data securely with built in disaster recovery and instant backups
Access data using a thin client, smartphone or tablet
Save time by having instant access to business critical information
Avoid the capital expenditure associated with traditional local networks
Data Cabling Services
In order to future proof your IT infrastructure and properly benefit from high broadband speeds and reliable WiFi it's essential to invest in an appropriate data cabling network. Data cables have capacities that need to match your data use and include ethernet cables and fibre optic technology. Our highly skilled engineers have years of experience improving and/or installing data cabling networks and we're happy to provide you with a free, no obligation quote for your businesses data cabling plan.
Network Health Checks
With Woodstock ITs' business network health and performance checks, you can be sure that your companies IT systems are working optimally and that any potential issues will be identified and resolved before they become a problem for your business.
We'll concentrate on:
Network speed
Internet connectivity
File sharing
Backup and data recovery
Antivirus solutions
Hosted Email Services
With our hosted email service it's easier than ever to seamlessly combine your work and home life. Every email you send or receive is synchronised on every device you own, in real time, all the time – so you'll never miss another deadline, meeting or family gathering.
The solution offers you:
Seamless real time synchronisation across all devices including smartphones and tablets
Fully backed up and accessible from any browser when required
Out of office replies
50 GB of mail storage
Built-in security and integrity
Guaranteed service levels
Low set up and ongoing costs
Backup and Data Recovery
Fail to prepare, prepare to fail. A plan B is essential, especially when it comes to the storage and recovery of important and sensitive data. Woodstock ITs' backup and data recovery services include:
A complete review of your current backup
Recommendations and suggestions
Onsite and cloud based back up solutions
Remote monitoring
Antivirus Software
Whether you're a small business or a large corporation the potential risk and impact of a virus or malware infection is significant. We've partnered with ESET, pioneers of antivirus protection and the creators of award winning threat detection software as well as Dark Web ID and Bullphish ID in order to provide a comprehensive package offering the ultimate in cybersecurity.
IT for Start-Ups and Small Medium Businesses
Our bespoke IT services for start-ups and small to medium sized businesses are designed to give your company the competitive edge from day 1. We'll work with you to design a tailored package to meet the unique requirements of your business, with services including but not limited to:
WiFi setup
VoIP (Voice over Internet Protocol)
Cloud computing
Cybersecurity
Storage solutions
Ongoing support
Broadband and WiFi
With our tailored approach to residential broadband and WiFi you can be confident that your network will be quick, secure and capable of meeting the unique current and future demands of your business.
Our core WiFi solutions include:
Setup assessment and ongoing maintenance of speed
Structured data cabling
Managed WiFi and surveying
All latest WiFi standard and top speeds (802.11ac)
Speed, hotspot and bandwidth management
Point to point wireless solutions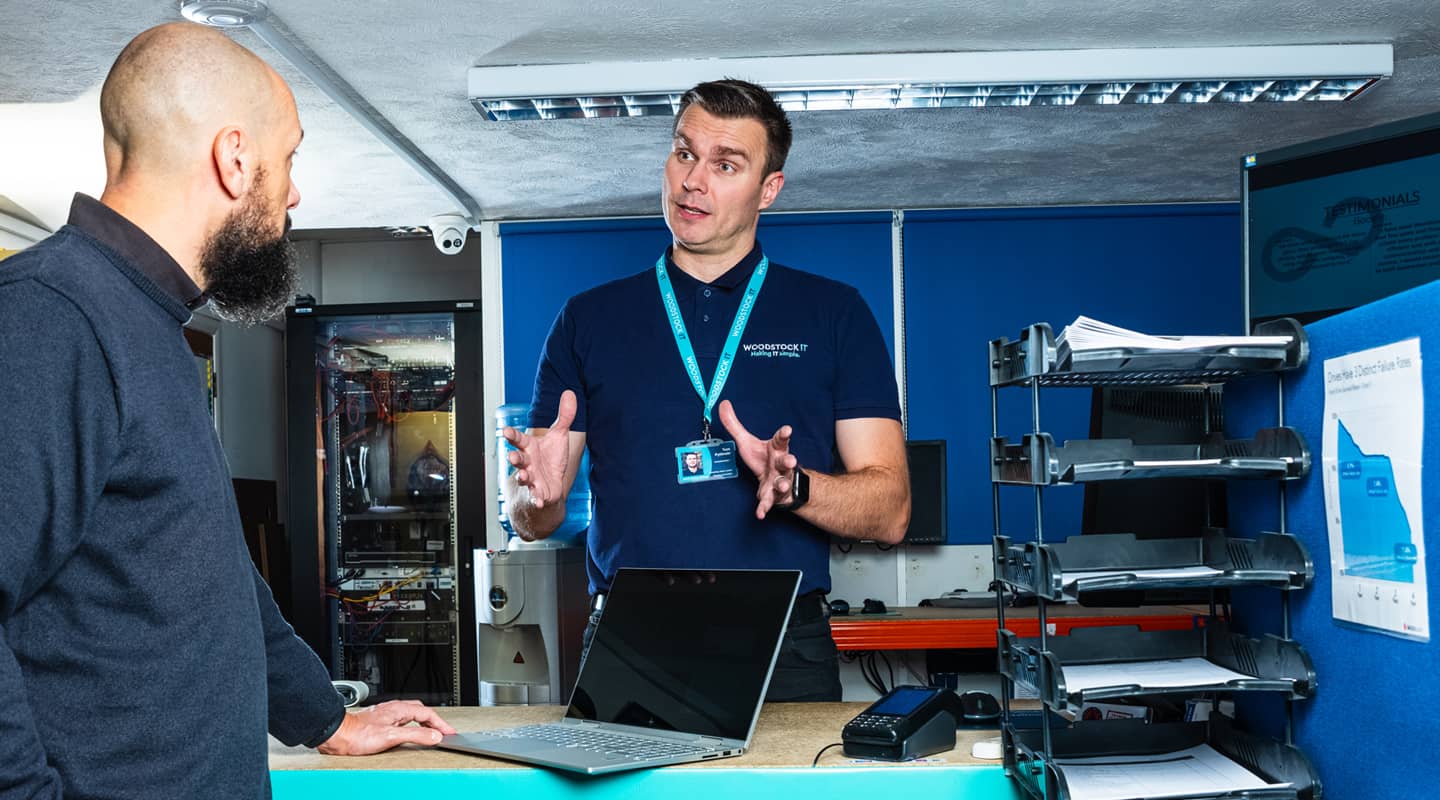 Benefits of Local IT Support and Business IT Services for Small Businesses
Minimise Downtime
Identifying and resolving potential issues before they arise ensures that the risk of company downtime is reduced to a minimum. As well as mitigating the considerable losses associated with downtime, this also increases both employee and public confidence in your business.
Increase Productivity
Engaging an MSP (Managed Service Provider) like Woodstock IT greatly improves the chances of your companies IT systems performing optimally. Properly functioning IT systems enable your employees to work efficiently, increasing productivity and boosting staff morale.
Minimise the Risk of Data and Security Breaches
The risk of a GDPR or security breach should never be underestimated. Woodstock IT are perfectly placed to look after all of your business needs, including the installation, maintenance and monitoring of your antivirus and security systems.
No fix no fee policy
If we can't offer you a solution or fix your issue, then you won't be charged.
In the unlikely event we cannot diagnose or complete a fix, we're more than happy to let you know what we've found through our diagnostics and point you in the right direction. In this way, you'll still be able to move forward with your issue and get our expert insight at no cost.
If you have a query, don't hesitate to get in touch. We look forward to hearing from you.
Make an enquiry
To discuss how we can help you save money and improve your communication infrastructure please call 01403 290 321 or 01293 912 321, or request a call back below. One of our friendly team is always happy to speak to you and explain anything you might want to know.