If you're like most business owners, you're always looking for ways to save money and improve efficiency. One great way to do both of those things is by using managed IT services. But what exactly are managed IT services, and how much do they cost?
In this article we'll answer those questions, discussing the benefits of using managed services, the role of a services provider and explaining why they are a cost-effective solution for businesses of all sizes.
We strongly believe that in the long run a managed IT service will save you time, money and stress! We not only help our clients in setting up, organising, and adjusting to their new system, but we also provide ongoing support, maintenance and protection. We provide completely customised management packages to our clients, ensuring that you pay only for the services you require, as and when they are required.
Call us now on 01403 290 321 to learn more about how your business could benefit from adopting managed services.
What are managed IT services?
Managed IT services are offered on an in-house or remote basis by a 3rd party, known as a managed service provider (MSP), through which the client directs the administration of their IT infrastructure.
These services are governed by a contract between the customer and vendor known as a service level agreement (SLA) that specifies not only what services will be provided, but also the minimum service levels required from providers as agreed upon by both parties.
How much do managed services cost?
The cost of managed IT services can vary considerably, depending on a number of factors including:
the service requirements of the client
the number of users
the complexity of the technologies involved
pre-agreed upon uptime commitments between client and managed services provider
We don't believe in a one-size-fits-all approach which is why our bespoke managed IT service packages are tailored on a case-by-case basis to ensure we meet the individual needs of your business. We'll take the time to understand exactly how your business functions before creating your personalised plan.
We also understand that things change, and that the services your business requires today may not be the same in the future, which is why we ensure that you only pay for the services you need, as and when you need them, giving you the freedom to opt in and out at any time.
In addition to our tailored packages we also offer our clients our standard IT support package, available for just £50 per month per user, which includes:
Antivirus – Industry leading antivirus security from ESET, providing cutting edge protection from malware, ransomware, spyware, and phishing websites
Back-up – Remotely managed cloud-based encrypted data backup with flexible retention periods
Encryption – Full encryption of your data storage for GDPR compliance
Email Service – Via Microsoft Office 365, with myriad add-ons to customise
Remote – Ongoing remote monitoring and helpdesk support, to keep things running smoothly for both in-office and remotely based employees
Are managed IT services cost effective?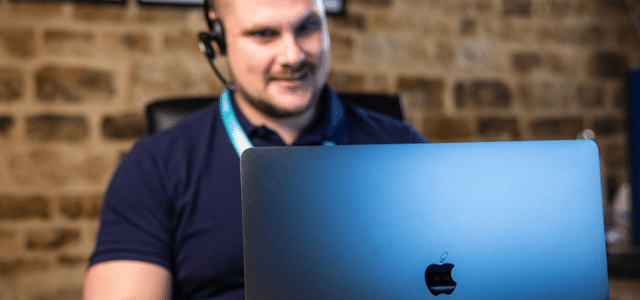 As we always say, a proactive approach to your businesses IT is far superior to a reactive one. It can be tempting to 'backseat' your IT requirements, choosing to act in the actual event of an issue – but in our experience this can be costly, both financially and to your reputation, and in some circumstances even legally.
Employing a third party to take care of your IT systems enables you to take the pressure off, handing over the responsibility for the ongoing maintenance and servicing of your IT infrastructure to a team of dedicated experts, freeing up valuable internal resources which can then be repurposed to improve your overall productivity.
Some of the benefits to using managed IT services include:
Proactive monitoring
With a managed IT service, your managed service provider is responsible for the monitoring of your IT infrastructure 24 hours a day, 7 days per week, ensuring that potential issues are resolved in as little time as possible, and in many circumstances before they have any impact on your operations.
No requirement for an in house team of IT consultants
With a dedicated team of consultants providing technical support at your fingertips there's no need for you to employ an in-house team of IT experts, saving you considerable money on wages.
Managed security
Ongoing monitoring and maintenance of email and data security, data backup and anti-virus software ensures that your business is secure at all times, minimising the risk of potential data breaches and guaranteeing compliance with regards to GDPR requirements.
Increased productivity
SLA's include a pre-agreed upon level of uptime so you can be confident that your systems will be up and running with maximum efficiency, improving employee morale, increasing productivity and helping to improve your reputational standing within your industry.
Woodstock IT's managed IT services
Our full support and managed IT services include:
Managed WiFi services (and installation)
Proactive monitoring of performance
Diagnosing issues
Maintain and improve IT performance
Setting up and maintaining cloud services
Cloud-based storage and backup solutions
Securely hosted email connection
VoIP installation and maintenance
On-site emergency visits
Remote connection solutions
Diagnosis of issues
Backup and data recovery
Network health check
Problem solving and system recovery
Industry-leading data encryption (we are an official partner of Dropbox)
Computer and laptop repairs
Ongoing support and advice
Rapid responses from our technicians
24/7 monitoring and automated maintenance
Support during office moves
Server and network migration
Proactive fixes before faults occur
Increasing your system capacity
Call us today on 01403 290 321, or send your enquiry to [email protected] and we'll be happy to provide you with a free, no obligation assessment of your current IT infrastructure as well as quote for a bespoke managed IT service contract.