Microsoft has released a completely reimagined Teams app in public preview, promising a faster, simpler, and more flexible collaboration experience across platforms. The revamped Microsoft Teams client offers significant performance improvements, streamlines workflows and enables seamless teamwork.
Faster Performance, Less Resource Usage
By sharing resources with your browser, the new Teams reduces its memory and disk usage substantially. It uses up to 50% less system resources for smooth performance. Tests show the new Teams loads twice as fast when launching the app, joining meetings, and switching channels. The optimised codebase and efficiency improvements add up to time savings that boost productivity.
Lean and Responsive Interface
The updated interface makes Teams easier to navigate on desktop and mobile. Key enhancements include the ability to mark all notifications as read with one click, quicker access to important conversations, and a streamlined view when screen sharing. The new functionality builds on Microsoft's Fluent Design System to create an intuitive, responsive user experience.
Feature Parity and Seamless Collaboration
The new Teams app offers full feature parity with all classic Teams features you rely on. Take advantage of custom line-of-business apps, third-party integrations, call queues, breakout rooms, external collaboration capabilities, and more. The unified experience across platforms enables seamless teamwork and communication.
Public Preview Available
All commercial Teams users can access the public preview now, for both Windows and Mac. For Windows users, toggle to the new Teams via the desktop client or Teams Admin Center. Users of Mac devices will automatically get the new Teams with the option to revert to the classic version. Switching to the new Teams client is simple since all your data and settings carry over.
Built-in Accessibility for Inclusive Meetings
The new Teams meetings offer live captions and transcripts to foster an inclusive collaboration environment. Captions make meetings more accessible for colleagues who are deaf or hard of hearing. Transcripts help meeting participants recall important discussions and action items.
Enhanced External Sharing and Collaboration
Securely work with clients, partners, and vendors outside your organisation. External user guests can fully participate in chats, meetings, channels, and teams. Take advantage of configurable external access and authentication settings to collaborate smoothly across company boundaries.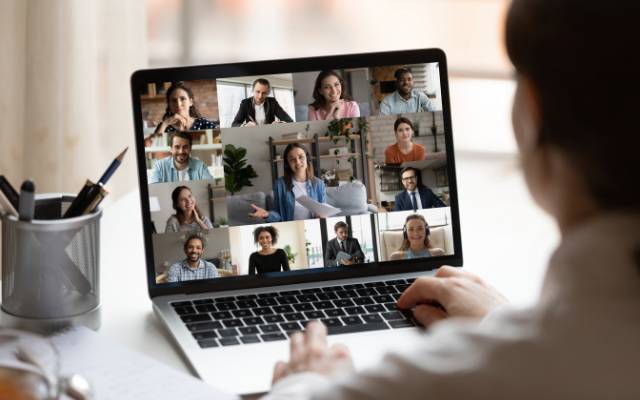 New Integrations and AI Capabilities
The latest Teams integrations include Workday, allowing you to access Workday data from Teams. VioletLMS provides learning resources right in Teams.
One of the most exciting new capabilities is the Copilot feature powered by artificial intelligence. Copilot acts as a virtual assistant that pays attention during your meetings, chats, and calls. It summarises the key discussion points, decisions, and action items after conversations finish.
Copilot leverages the power of the Azure OpenAI service to digest spoken and written conversations in Teams. The summaries provide an at-a-glance recap of long meetings or busy chat threads so you don't lose track of important details.
Copilot can highlight relevant documents and resources related to your discussions as well. The AI assistant synthesises information from across Teams and your connected services to provide contextually relevant recommendations.
This built-in virtual assistant saves you time trying to recall and document key information from collaborative sessions. Copilot automates the process of distilling conversations down to their most salient points and action items.
Teams as an Alternative to PSTN
With the forthcoming phasing out of traditional PSTN telephone systems by December 2025, Teams Phone can replace your traditional telephony solution with sophisticated Microsoft 365 cloud-based VoIP calling. Woodstock IT can help you make the switch.
Embrace the new Teams with Woodstock IT
If you need help with deploying and supporting Microsoft Teams in your organisation, please contact us at Woodstock IT today on 01403 290 321 or 01293 912 321.
FAQs
How Does the New Microsoft Teams Improve Communication and Collaboration?
The new Microsoft Teams improves communication and collaboration by being faster, simpler, and more flexible. It plays well with third-party apps, allows calling outside of Teams, and gets you into meetings quicker. It's a game-changer for productivity.
What Are the Features of the New Teams That Make File Sharing and Document Management More Streamlined?
The new Teams makes file sharing and document management more streamlined. It plays better with third-party apps, allows calling phones outside of Teams, and gets you into meetings quicker. It's a game-changer for productivity.
How Does the New Teams Enhance Project Management and Task Tracking?
The new Teams enhances project management and task tracking by offering a simplified and flexible interface. It allows for seamless collaboration with third-party apps and provides quicker access to meetings.
How do I Update my Teams to a New Version?
To update to the new Teams desktop app, flip the "Try the new Teams" toggle in the top left corner of classic Teams. This toggle appears if you're on Windows 10 version 19041 and Teams version 1.5.00.29212 or higher.
When you enable the toggle, classic Teams will close and the new Teams will launch. The new version then becomes your default experience across desktop, web, and mobile.
If you don't see the "Try the new Teams" toggle, contact your IT admin as your system may not meet the minimum requirements.
Switching to the new Teams carries over all your conversations, files, and settings for a seamless upgrade.
How do I Switch Back to Classic Teams?
The new Teams app has full parity with classic Teams features like custom business apps, third-party integrations, calling, and channel conversations.
If you want to switch back to classic Teams, turn off the "New Teams" toggle at the top of the desktop app. This will close the new Teams and open the classic version.
Note that you'll be disconnected from any active meetings or calls when toggling between versions. Your default Teams app will then switch to the classic version. You can easily toggle back to new Teams the same way.
Can the New Teams Seamlessly Integrate With Other Microsoft Tools, and if So, What Are Some Examples of This Integration?
Yes, the new Teams seamlessly integrates with other Microsoft tools. For example, you can easily share files from OneDrive or SharePoint within Teams, and schedule meetings directly from Outlook.